KardiaMobile
The AliveCor KardiaMobile ECG is a single-channel cardiac event recorder. It consists of a device and app that enables you to record and review electrocardiograms (ECG's) anywhere, anytime. The device attaches to the back of most iOS and Android devices, and communicates wirelessly with the free Kardia app, providing powerful display, analysis and communication capabilities. Designed for health professionals and consumers.
Award-Winning Design and Technology
The AliveCor KardiaMobile ECG fits on most mobile devices. It simply rests on your fingers or chest to record an ECG. AliveCor's proprietary technology converts electrical impulses from user's fingertips into ultrasound signals transmitted to the mobile device's microphone. Fast, efficient signal transmission results in minimal battery drain.
You Can Benefit
The AliveCor KardiaMobile ECG provides individuals with the ability to track heart health anywhere, anytime at an affordable cost. Those who can benefit include individuals with suspected or diagnosed heart conditions and health conscious individuals.
Easy to Use
Record your ECG in seconds. Just start the app and place your fingers on the metal sensors.
Hardware
The 4th generation AliveCor KardiaMobile ECG is compatible with most iOS and Android devices, for more information see our compatibility list. An attachment plate with single-use adhesive that can be used to attach the monitor to an existing case or directly to the mobile device itself. The attachment plate is optional, and available for purchase seperate from the device itself. The phone case is not available.
Specifications
ECG Channels: Single Channel
Input Dynamic Range: 10mV
Frequency Resp.: 0.5Hz to 40 Hz
A/D Sampling Rate: 300 Hz
Resolution: 16 bit
Heart Rate Range: 30 - 220 bpm
Battery Type: 3V Coin Cell
Battery life: 12 months typical use
Standards Compliance
ANSI/AAMI EC38, ISO 10993, IEC 60601-1, IEC 60601-1-2, IEC 60601-2-47. TGA approved (ARTG 234417)
Free App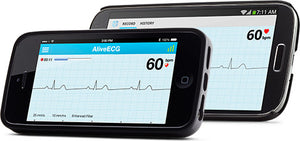 AliveCor's free Kardia app, available for iOS and Android, together with the Heart Monitor, records and stores single-channel ECGs. 
Advanced Filtering
Enhanced filtering technology minimizes artifact, yielding a high fidelity tracing. The medical grade tracings are comparable to Lead I on standard ECG machines.
Record Symptoms and Patient Details
Add patient details, symptoms and notes.
Automatic AF Detection
Instantly know if atrial fibrillation (AF), the most common heart rhythm disturbance and a leading cause of stroke, is detected in your ECG.
Free Basic Membership
Every purchase of KardiaMobile comes with the free basic service that includes unlimited ECG recording, automatic analysis to know instantly if atrial fibrillation is detected, and option to email your ECG to yourself or your doctor
Optional KardiaCare Membership
Available for purchase through the Kardia app for $12.99/month, KardiaCare includes unlimited history and cloud storage of all your ECG recordings, automatic ECG sharing and a monthly ECG summary report to share with your doctor.
 
Basic
Free
KardiaCare
$12.99/mo.

Take unlimited ECGs. Detect Atrial Fibrillation, Bradycardia, Tachycardia or Normal heart rhythm.

Store your ECGs on your phone, and email your ECG to your doctor with the press of a button.

Track your weight and blood pressure data for total heart care.

Cloud Storage & Security. Enjoy secure access to all of your ECG recordings on any device, accessible anytime, anywhere.

Create useful personalised heart health report directly in the app and share with your doctor.

Set up automatic sharing of your ECGs with family or caregivers using Inner Circle.

Medication Tracking. Receive reminders to take specific medication at your doctor's recommended times and track your medication history.
Setup

1
Attach the AliveCor KardiaMobile ECG to your mobile device.
2
Download the free Kardia app, from the App Store on your iOS device, or Google Play Store on your Android device. Sign up for a new account.

3
Record your ECGs, and take advantage of AliveCor's multiple features , including emailing ECGs, printing PDFs, and ECG Analysis.
User Manuals


Compatibility
AliveCor KardiaMobile ECG is compatible with most recent Android and iOS phones. However we only test a limited range of phones which are listed below. If there is a compatibility issue you can return the product for a full refund.
*Not compatible with KardiaMobile 6L
**Only compatible with KardiaMobile 6L
iPhone
iPhone 14 (iOS 16.3)
iPhone 14 Plus (iOS 16.3)
iPhone 14 Pro (IOS 16.3)
iPhone 14 Pro Max (iOS 16.3)
iPhone 13 (iOS 16.3)
iPhone 13 Mini (iOS 16.3)
iPhone 13 Pro (iOS 16.3)
iPhone 13 Pro Max (iOS 16.3)
iPhone 12 (iOS 16.3)

iPhone 12 Pro (iOS 16.3)
iPhone 12 Pro Max (iOS 16.13)
iPhone 12 mini (iOS 16.3)
iPhone 11 (iOS 16.3)
iPhone 11 Pro (iOS 16.3)
iPhone 11 Pro Max (iOS 16.3)
iPhone XR (iOS 16.3)
iPhone Xs (iOS 16.3)
iPhone Xs Max (iOS 16.3)

iPhone X (iOS 16.3)
iPhone 8 (iOS 16.3)
iPhone 8 Plus (iOS 16.3)
iPhone 7 (iOS 15.6)
iPhone 7 Plus (iOS 15.6)
iPhone 6s (iOS 15.6)
iPhone 6s Plus (iOS 15.6)
iPhone SE (iOS 16.1)
iPod Touch (7th gen) (iOS 15.6)

iPad
iPad 9th generation (iOS 16.1)
iPad 2019 (7th gen) (iOS 16.1)
iPad Pro 12" (2nd Gen) (iOS 16.1)
iPad Pro 10.5" (2nd Gen) (iOS 16.1)

iPad Pro 12" (iOS 16.1)
iPad Pro 9" (iOS 16.1)
iPad 9.7" (2017) (iOS 16.1)
iPad Mini 5 (iOS 16.1)

iPad Mini 4 (iOS 15.6)
iPad Air (3rd gen) (iOS 15.6)
iPad Air 2 (iOS 15.6)

Android
Blackberry Key 2 (Android 8.1)
BLUE BLUE - ADVANCE 5.0** (Android 5.1)
BLUE BLU - V50 (Android 10.0.0)
BLUE BLU-V81 (Android 10.0.0)
BLUE BLU-V90 (Android 9)
BLUE BLU-V91 (Android 10.0.0)
Google Pixel (Android 10.0.0)
Google Pixel XL (Android 10.0.0)
Google Pixel 2 (Android 11.0.0)
Google Pixel 2 XL (Android 11.0.0)
Google Pixel 3 (Android 12.0.0)
Google Pixel 3 XL (Android 12.0.0)
Google Pixel 3a (Android 11.0.0)
Google Pixel 3a XL (Android 11.0.0)
Google Pixel 4 (Android 13.0.0)
Google Pixel 4a (Android 13.0.0)
Google Pixel 4 XL (Android 13.0.0)
Google Pixel 5 (Android 13.0.0)
Google Pixel 6a (Android 13.0.0)
Google Pixel 7 (Android 13.0.0)
Google Pixel 7 Pro (Android 13.0.0)
Huawei Honor 7c Black* (Android 8)
Huawei Honor 7s Blue* (Android 8.1)
Huawei Honor 8x (Android 8.1)
Huawei Honor 10 Lite (Android 10.0.0)
Huawei Honor Play* (Android 8.1)
Huawei Honor View 20 (Android 10.0.0)
HTC Desire 12+** (Android 8)
HTC U Play* (Android 6)
HTC U12+ (Android 8)
Huawei Mate 10 (Android 8)
Huawei Mate 20 (Android 10.0.0)
Huawei Mate 20 Pro (Android 9)
Huawei P20 Pro (Android 10.0.0)
Huawei P30 (Android 10.0.0)
Huawei P30 Pro (Android 10.0.0)
Huawei Y9 Prime (Android 10.0.0)
Lenovo Tab M8 (Android 10.0)
LG G6 (Android 7)
LG K30 (Android 7.1)
LG K31 Rebel (Android 10.0.0)
LG K40 (Android 8.1)
LG K51 (Android 9)
LG G7 ThinkQ (Android 8)
LG Nexus 5 (Android 6.0.1)
LG Phoenix 4 (Android 8.1)
LG Premiere Pro Plus (Android 9)
LG Q7 (Android 8.1)
LG Q 70 (Android 10.0.0)
LG Stylo 5 (Android (9.0.0)
LG Stylo 6 (Android (10.0.0)
LG V30+ ThinQ (Android 7.1.2)
LG V40 Thinq (Android 8.1)
LG V40+ Thinq (Android 8.1)
Lively Smart (Android 10)
Mi A2*(Android 8.1)
Motorola Moto Edge 20 LITE (Android 11.0.0)
Motorola Moto G Gen 2 (Android 6)
Motorola Moto G Power (2021) (Android 10)
Motorola Moto G Play (Android 11.0.0)
Motorola Moto G5 Plus (Android 8.1.0)

Motorola Moto G7 (Android 9)
Motorola Moto G7 power (Android 10.0.0)
Motorola Moto G8 Plus (Android 9)
Motorola Moto G9 Play (Android 10.0)
Motorola Moto G9 Plus (Android 10.0.0)
Motorola G32 (Android 12)
Motorola One (Android 8.1.0)
Motorola Onepower (RF)(Android 8.1.0)
Motorola Moto One 5G ACE (Android 10.0.0)
Motorola Moto Z2 Play* (Android 7.1.1)
Motorola Moto Z2 Force (Android 7.1.1)
Motorola Razr (Android 11.0.0)
Nokia 5.4 (Android 9)
Nokia 8 (Android 9)
Nokia G10 (Android 11.0.0)
OnePlus 5** (Android 7.1.1)
OnePlus 6* (Android 9)
OnePlus 6A1 (Android 11.0.0)
OnePlus 6T (Android 11.0.0)
One Plus 7 (Android 9)
One Plus 7 Pro** (Android 11.0.0)
OnePlus 7T** (Android 11.0.0)
OnePlus 8T** (Android 11.0.0)
One Plus 8Pro** (Android 11.0.0)
OnePlus 9 5G (Android 11.0.0)
One Plus Nord N10 5G (Android 10)
OnePlus Nord N100** (Android 10)
OnePlus Nord N200 (Android 11.0.0)
OPPO A52 (Android 11.0.0)
OPPO FIND X** (Android 8.1)
OPPO FIND X2 Lite** (Android 8.1)
OPPO Reno Z (Android 10)
OPPO Reno 2 Z (Android 11.0.0)
Poco F1 (Android 9
Poco X2** (Android 10)
Realme 1 (Android 8.1)
Realme U1 (Android 8.1)
Realme 6 Pro (Android 10)
Redmi Note 5 Pro (Android 7.1.2)
Redmi Note 7** (Android 9)
Redmi Note 8 (Android 10)
Redmi Note 8 Pro (Android 11.0.0)
Redmi Note 9 (Android 11.0.0)
Redmi Note 9 Pro (Android 10)
Redmi Y1 Lite* (Android 7)
Redmi Y1* (Android 7.1.2)
Redmi Y2 (Android 8.1)
Reno 2F** (Android 9)
Samsung Galaxy A10 (Android 11.0.0)
Samsung Galaxy A10e (Android 11.0.0)
Samsung Galaxy A10S (Android 10.0.0)
Samsung Galaxy A11 (Android 11.0.0)
Samsung Galaxy A12 (Android 11.0.0)
Samsung Galaxy A13 ( Android 12.0.0)
Samsung Galaxy A13 5G (Android 12.0.0)
Samsung Galaxy A20e (Android 12.0.0)
Samsung Galaxy A20 (Android 11.0.0)
Samsung Galaxy A20S ** (Android 11.0.0)
Samsung Galaxy A21S (Android 11.0.0)
Samsung Galaxy A30 (Android 9)
Samsung Galaxy A30s (Android 11.0.0)

Samsung Galaxy A31 (Android 11.0.0)
Samsung Galaxy A32 (Android 11.0.0)
Samsung Galaxy A50 (Android 11.0.0)
Samsung Galaxy A51 (Android 11.0.0)
Samsung Galaxy A70 (Android 9)
Samsung Galaxy A71 (Android 11.0.0)
Samsung Galaxy M30 (Android 8.1)
Samsung Galaxy Note 5 (Android 7.0.0)
Samsung Galaxy Note 8 (Android 8.0.0)
Samsung Galaxy Note 9 (Android 8.1)
Samsung Galaxy Note 10 (Android 10.0.0)
Samsung Galaxy Note 10+ (Android 10.0.0)
Samsung Galaxy Note 20 5G (Android 11.0.0)
Samsung Galaxy Note 20 Ultra 5G (Android 11.0.0)
Samsung Galaxy S5 (Android 6.0.1)
Samsung Galaxy S6 (Android 7.0.0)
Samsung Galaxy S7 (Android 8.0.0)
Samsung Galaxy S8 (Android 7.0.0)
Samsung Galaxy S8 (Android 7)
Samsung Galaxy S8+ (Android 8.0.0)
Samsung Galaxy S8 Active (Android 8.0.0)
Samsung Galaxy S9 (Android 8.0.0)
Samsung Galaxy S9+ (Android 9.0.0)
Samsung Galaxy S10 (Android 9.0.0)
Samsung Galaxy S10+ (Android 9.0.0)
Samsung Galaxy S10e (Android 9.0.0)
Samsung Galaxy S20 (Android 12.0.0)
Samsung Galaxy S20 5G (Android 12.0.0)
Samsung Galaxy S20 FE 5G (Android 12.0.0)
Samsung Galaxy S20+ 5G (Android 12.0.0)
Samsung Galaxy S20 Ultra (Android 12.0.0)
Samsung Galaxy S20 Ultra 5G (Android 12.0.0)
Samsung Galaxy S21 (Android 12.0.0)
Samsung Galaxy S21 5G (Android 12.0.0)
Samsung Galaxy S21+ 5G (Android 12.0.0)
Samsung Galaxy S21 Ultra (Android 12.0.0)
Samsung Galaxy S22 (Android 13.0.0)
Samsung Galaxy S22 Ultra (Android 13)
Samsung Galaxy S23 (Android 13)
Samsung Galaxy S23+ (Android 13)
Samsung Galaxy S23 Ultra (Android 13)
Samsung Galaxy Tab Active4 Pro 5G ( Android 12)
Samsung Galaxy Tab ActivePro 10.1 ( Android 11)
Samsung Galaxy Tab A 8.0 2017 (Android 8.1.0)
Samsung Galaxy Tab A7 Lite (Android 11.0)
Samsung Galaxy Tab A7 LTE (Android 11.0)
Samsung Galaxy Tab A7 non-LTE (Android 11.0)
Samsung Galaxy Tab A8 - (Android 12.0.0)
Samsung Galaxy Tab A8 Lite** ( Android 11.0) **
Samsung Z Flip 3 5G (Android 11.0.0)
Samsung Z Fold 2 5G (Android 11.0.0)
Samsung Z Fold 3 5G USA
Sony Xperia 5 ll** (Android 11.0.0)
TCL 10 Pro (Android 11.0.0)
UMIDIGI A9 (Android 11.0.0)
Xiaomi K20** (Android 9.0.0)
Xperia XZ1 Compact (Android 8)
TT800Q 4G LTE (Android 7.1)
Vivo Y83 Pro (Android 8.1)